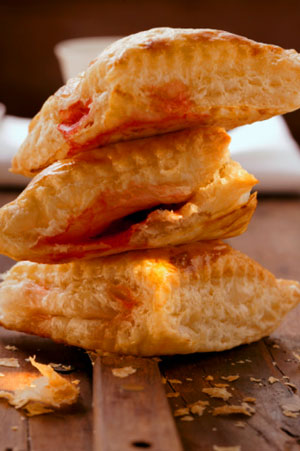 Puff Pastry Dough - introduction

Retail - Puff Pastry Dough
Recipe Ideas
These ideas relate to our food service cases of Puff Pastry, for retail ideas, please refer to the instructions included in our retail pack.
Here are some ideas for you to try with our Puff Pastry Dough. You are certain to get wonderful results.
Puff Pastry Dough
Vol-au vents (patty shells):
Dough must be twice as thick as the sheet of dough. To achieve that, paint egg wash on top of opened out sheet. Fold in half or place second sheet on top. Cut out desired-size round with a cookie cutter. Within that round, press a slightly smaller cutter halfway through the round to score a rim. Egg wash top. Bake until sides are firm. Cut around scoring mark with a sharp knife reserving lid if desired. With a fork, scrape out unbaked dough in center. Fill with sweet or savory filling.
Mock Napoleons:
Roll to 11½" by 20" long. Cut 16 rectangles 2¾" by 4¾". Egg wash. Chill 30 mins. Bake in pre-heated 375 oven until firm (20-30 mins) cool. Place filling on one rectangle and top with another to form puffed, flaky sandwich.

Save scraps. You may cut out decorative shapes (fleurons) to garnish soups or potpie tops. Or ball up remaining scraps and flatten. (Rerolled dough will not rise much, but many products can be made with great success. Save the scraps from each case you use.) Wrap in plastic. Rest in the refrigerator for at least several hours or freeze. Use for piecrusts. Dust with flour and roll out as thin as you can. Let dough shrink back by lifting off surface and gently bouncing up. Fold in half and then in quarters. Lay in pie plate and unfold. Prick with a fork and prepare pie according to your recipe.

Yield from one case: one 9" pie shell, pot pie or pie top, 26 half-inch palmiers; 18-20 3" rounds for hors d'oeuvres; 12 circles, each 3¾", for savory or sweet turnovers or individual pot pie tops; five traditional Napoleons cut into 2¾" x 4¾"; 46 straws 7-8" long.
Recipe for Savory or Sweet Straws:
Yield from one sheet puff pastry – approximately 46 – 7" to 8" straws. Unfold sheet of dough on to lightly floured work surface or use balled up scraps to equal approximately one package. Dust lightly with flour. Roll out to measure 10" x 30" and very thin 1/16". Brush top of dough lightly with water. If savory, generously sprinkle horizontal half of dough with Parmesan cheese and lightly dust with paprika, pepper or other spice or herb. If sweet, instead use generous sprinkling of cinnamon sugar. Fold blank half over sprinkled half to measure 10" x 15". After folding, sprinkle additional cheese mixture or sugar on top and very gently go over with rolling pin just to seal layers together. With pizza cutter, trim off folded edge. Cut in half vertically so that you have 2 pieces 5" x 15". Cut horizontally into strips ¾" x 5". Twist as lightly as you can. Strip will lengthen. Press ends down to adhere to ungreased sheet pan. This will help keep from shrinking. Space at least 1½" apart. Rest in refrigerator 30 minutes. Bake in preheated 375° oven for 20-25 minutes until firm. If soft but browned after 15 minutes, turn off oven, prop door slightly ajar and leave inside until dry.
Chocolate Puff Pastry Dough
Defrost individual sheets of chocolate puff pastry dough in refrigerator for one hour or 20 minutes at room temperature. Do not leave sitting at room temperature after defrosting. Refrigerate if not using immediately. For best results, bake within 24 hours of defrosting. Otherwise refreeze
Chocolate puff pastry sandwiches:
Cut shapes such as 2 ¾" – 3" circles, hearts, and/or rectangles. Lightly egg wash. Bake in 375° oven (325° convection oven) for 15 minutes. Turn off oven. Let dry out in oven for 10 minutes, then cool. Using sharp, serrated knife, slice carefully in half horizontally. Fill with pastry cream and fruit; or make ice cream sandwiches served on a fresh fruit coulis with hot fudge and whipped cream.
Chocolate puff pastry straws:
Roll puff pastry out to 1/16". Spray or paint with water. Sprinkle heavily with granulated sugar. Top with another sheet of pastry dough also rolled to 1/16". Again wet and sprinkle generously with sugar. Lightly press layers together with rolling pin. Cut ¾" strips 4-5" long. Bake 15 minutes per above temperatures. Turn off oven. Let dry out in oven for 10 minutes.
Chocolate "Palmiers":
Proceed as with straws above. After straws are cut, fold each individually as follows: bring each end together meeting in center. Bring folded ends together and close like a book. Lay on side so that a cut edge faces up. Flatten with heel of hand or a spatula. Dredge both sides in additional sugar. Bake same as straws.
Napoleons:
Roll dough out to 1/16". Cut 16 rectangles 2 3/4" by 4 3/4". Lay on greased or parchment-lined baking pan. Dock pastry. Lightly egg wash and bake per full sheet instructions.
Other applications may include tarts, strudels, and turnovers.